See other items in this category:
Alpine Hurricane Pumps



click image to view larger

Alpine Hurricane Pumps


We are not currently taking online orders. To order please call 724-869-3317. We are Western Pennsylvania's PREMIERE pond and water garden supplier.
---
Description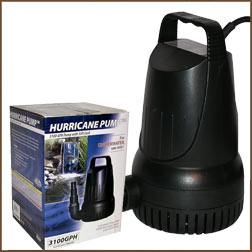 The Hurricane Pumps are ideal for heavy duty waterfall or filter systems, as it has the needed power to force large quanities of water through long or high pipe runs, or through restrictive UVC's and filters. They are designed for continuous operation, even in the harshest pond environment.
Features:
Oil-free, magnetic-driven, epoxy protected, ceramic shaft
Cost-saving, energy efficient operation
Ceramic impeller for long life
33' Power cord
Heavy duty waterfall applications
3 Year Warranty
Specifications:
Hurricane 1500 - 95 Watts, 1500 GPH, Max. Head 11'5", Outlet 3/4" to 1 1/4"
Hurricane 2100 - 125 Watts, 2100 GPH, Max. Head 13'1", Outlet 3/4" to 1 1/4"
There are only a few of these pumps remaining in our stock... We are no longer carrying these and do not offer a warranty at these reduced pump prices.