Skimmers
> Savio Compact Skimmer Filter with Weir
See other items in this category:
Savio Compact Skimmer Filter with Weir



click image to view larger

Savio Compact Skimmer Filter with Weir


We are not currently taking online orders. To order please call 724-869-3317. We are Western Pennsylvania's PREMIERE pond and water garden supplier.
---
Description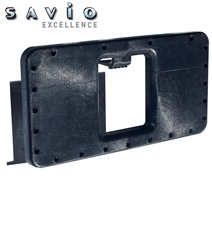 If you liked the large Savio skimmer, you will love the Compact version for smaller ponds. Made with strong, durable injection molded housing to retain it's structure when buried. Optional UV clarifier for safe, chemical-free algae control. Rugged leaf basket, stays secure and won't collapse.
Designed for ponds up to 700 gallons - Max. 300 sq.ft. Max Flow 3000 gph
Choose appropiate Weir (face plate) 6" for up to 200 sq. ft. (1,000 gph Max Flow)
8.5" Weir for up to 300 sq. ft. - (3,000 gph Max Flow)
See Replacement Parts for additional Savio Compact Skimmer repair items or add-on items.
---
People Who Bought This Product Also Ordered: