See other items in this category:
Once-A-Year Fertilizer Pond Spikes



click image to view larger

Once-A-Year Fertilizer Pond Spikes


We are not currently taking online orders. To order please call 724-869-3317. We are Western Pennsylvania's PREMIERE pond and water garden supplier.
---
Description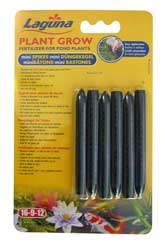 Make fertilizing easier this year with once-a-year plant spikes which provide important nutrients to aquatic plants. The temperature activated spike, releases nutrients only when plants need them most.
* Feeding formula maximizes the size and color of aquatic plants and increases the amount and size of flowers.
* Contains a low amount of phosphorous
* No adverse effect on water on water quality
* Non-toxic
* Contains no copper
* Specifically designed for potted plants and planting baskets
* Temperature activated at 50F (10C)
Two sizes available:
PT910 ... 3 pack standard size pond spike
PT911 ... 6 pack mini pond spikes
---
People Who Bought This Product Also Ordered: