See other items in this category:
Large Stone Cover



click image to view larger

Large Stone Cover


We are not currently taking online orders. To order please call 724-869-3317. We are Western Pennsylvania's PREMIERE pond and water garden supplier.
---
Description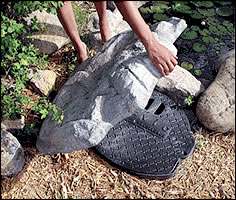 These Stone Coverings are made of light weight materials. The high quality, durable coverings allow easy access to your Savio components.
The stones are made from impressions taken from an acual stone to provide natural camouflage in the shape of realistic granite out croppings. The color is chemically bonded to polyurea substrate for superior UV fade resistance. The rough texture surface readily accepts paint.
Size: 30" x 30" x 4"