See other items in this category:
AquaRock Blue Stone Kit



click image to view larger

AquaRock Blue Stone Kit


Sale!

We are not currently taking online orders. To order please call 724-869-3317. We are Western Pennsylvania's PREMIERE pond and water garden supplier.
---
Description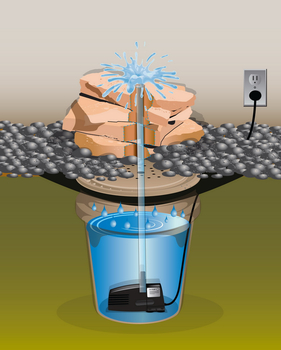 AquaRocks Stone Kit is the perfect kit for youth and simple attractions for in the garden.
Includes: Five Gallon bucket (water basin) and perforated lid
Lid liner skirt
Water pump with 20' power cord
Water hose
Drilled rock stack
Size: 12" diameter x 14.5" high (stone size and quantity may vary)
Installation is easy
1. Dig out the appropriate amount of soil to bury the bucket
2. Place the bucket into the hole you have created
3 . Decorate - Add gravel or decorative pebbles to cover the liner
bucket lid
4. Enjoy - Fill the bucket with water and plug in the pump
5. Enjoy your new water feature!

Note: The AquaRock Fountain Kit does not include decorative gravel or pebbles