See other items in this category:
Signature Series Biofalls Filter 2500



click image to view larger

Signature Series Biofalls Filter 2500


Sale!

We are not currently taking online orders. To order please call 724-869-3317. We are Western Pennsylvania's PREMIERE pond and water garden supplier.
---
Description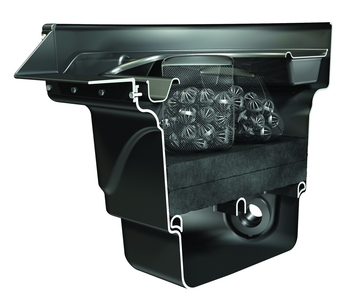 Professional built filter box that easily filters ponds up to 2,500 gallons and can handle flow rates up to 5,000 gallons per hour. Durable rotational-molded polyethylene ensures maxium strength and withstands whatever Mother Nature can dish out. All Aquascape BioFalls Filters include a lifetime warranty!
Signature Series Features:


* Reversible waterfall lip option, which provides the flexibility of using a natural stone spillway and large accent boulders along the front of the unit.
* Removable upper tray can hold rocks, plants, and gravel, helping to naturalize the BioFalls Filter into the surrounding landscape.
* Media net and BioBalls (BioBalls sold separately)
* Corrosion resistant non-cross-threading hardware stands up to the elements.
* Two Poly-Flo ESA biological Filter Mats provide 50% more surface area than traditional filter mats.
* Two bulkhead ports provide plumbing options.
* Filter support rack ensures evenly distributed waterflow though the filter mats and provides structural strength to the walls of the filter.
* Circular shape provides maxium strength and makes it easy to camouflage into the landscape.

Specifications:
Dimensions: .................... 24" L x 29.5"W x 20"H
Spillway Width: .............. 21.5"
Pump Flow Rate: ............ up to 5,000 GPH / 18,900 LPH
Bulkhead Port: ................ Dual 2"
Fittings Included: ............ Two 2" PVC Adapters (male thread x 2" slip)
Rock Tray: ...................... Included
Filter Mats: ..................... Two Included
BioBalls:.......................... 200 (only included as part of a complete Pond Kit)
Media Nets: .................... Two Included
Warranty: ........................ Limited Lifetime

Replacement parts available

---
People Who Bought This Product Also Ordered: