See other items in this category:
MicroFalls Filter



click image to view larger

MicroFalls Filter


We are not currently taking online orders. To order please call 724-869-3317. We are Western Pennsylvania's PREMIERE pond and water garden supplier.
---
Description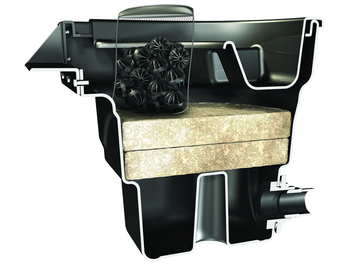 Exceptional quality found in a small waterfall filter. This filter is designed to be buried in the ground to create the beginning of a stream or raised to create the start of a waterfall.
MicroFalls Features and Specifications:
Ideal for ponds up to 1000 gallons
pump size - up to 3,000 GPH
Full liner-attachable waterfall lip creats a reliable watertight seal
The round shape adds strength and makes the filter easier to camouflage
Lots of space for filter pads and biological filtration media
MicroFalls Filter includes 1.5" slip fitting and 1.5" kink-free barbed insert fitting
15" spillway
Single 2" bulkhead port
Two Standard filter mats and one biological media net
Help to naturalize your MicroFalls Filter by adding the optional MicroFalls Rock Tray. This tray holds rocks, plants and gravel.
Dimensions:
20.5" W x 17.5" L x 17" H
---
People Who Bought This Product Also Ordered: