See other items in this category:
Waterfall Spillway



click image to view larger

Waterfall Spillway


Sale!

We are not currently taking online orders. To order please call 724-869-3317. We are Western Pennsylvania's PREMIERE pond and water garden supplier.
---
Description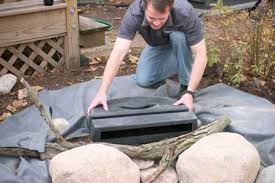 The Waterfall Spillway is a cost-effective solution to help create the starting point of a beautiful waterfall and stream.The durable design makes it easy to disguise by allowing soil, rocks or logs to be placed directly on top of the unit. Comes complete with 2-inch PVC slip fitting, 1.5 inch barbed hose fitting and pre-installed bulkhead which makes it ready to handle flow rates up to 7,500 GPH.
Internal barriers dam the incoming flow of water, providing a smooth-flowing waterfall.

When to use the Waterfall Spillway: The Waterfall Spillway is a versatile tool that can be used in a wide variety of water feature applications. You may find that your imagination is the only limitation to what you can create with the Waterfall Spillway.
* The Waterfall Spillway is an ideal solution for starting waterfalls on Pondless Waterfall systems, where, due to the absence of fish, more expensive biological filters aren't necessary.

* The Waterfall Spillway is also an excellent choice for designing additional waterfalls and streams into new or existing ponds that already have a biological filter.
* With the Waterfall Spillway you can build behind hardscape walls to provide a more formal waterfall design.

* You can use multiple Waterfall Spillways to design larger, more creative waterfall configurations.
Waterfall Spillway Specification Chart
Spillway Width ................... 22"
Unit Dimensions ................ 17.5" L x 24" W x 5" H

Bulkhead Port ..................... Single 2"
Fittings Included ................ 2" PVC slip, 1.5" barbed hose fitting and pre-installed bulkhead
Flow Rates Handled .......... up to 7,500 GPH / 28,000 LPH
---
People Who Bought This Product Also Ordered: