See other items in this category:
Three Grow Tub System with Medium Fish Tub



click image to view larger

Three Grow Tub System with Medium Fish Tub


We are not currently taking online orders. To order please call 724-869-3317. We are Western Pennsylvania's PREMIERE pond and water garden supplier.
---
Description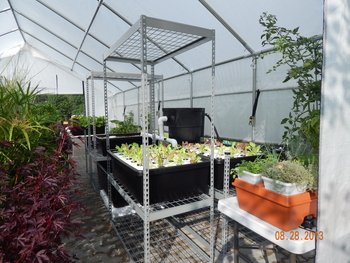 The Natures Aquatics Home Aquaponic System allows a family to enjoy the benefits of healthful eating at a sensible price.

System Includes:
(1) Medium Fish Tub - 126 gallons 51" x 32" x 18"
(3) Plant Grow Bins - 60 gallons each 42" x 28.5" x 12"
(1) Large Aquaponics Filter
(1) 45L Aeration Pump w/airstones, tubing & manifold
(1) 1350 GPH Water Pump
(1) Bell Siphon kit
(1) Complete Fittings Kit
(2) Drilled Polystyrene Plant Rafts
(1) Cycling Startup Package
(1) Ultimate Water Conditioner
(1) Ammonia, pH, Nitrite, & Nitrate test kits
(1) Thermometer
(50) 2" Net Cups
(1) Fish Net Covering w/ clips
(1) Mesh Basket w/oyster shell
(1) Operations Manual

Optional:
(6) Plant!t Fired Clay Media
Ultra Violet Light
T5 Grow Light
Additional Grow Bins

Due to varies in system configuration, 2" PVC pipe, the 32 gallon Mineralization tank (Brute trash can) filter and plant racks are supplied by customer. Fittings for the system and mineralization tank are included in Complete Fittings Kit.
System will require a shipping quote due to size.