See other items in this category:
IonGen G2 System



click image to view larger

IonGen G2 System


Sale!

We are not currently taking online orders. To order please call 724-869-3317. We are Western Pennsylvania's PREMIERE pond and water garden supplier.
---
Description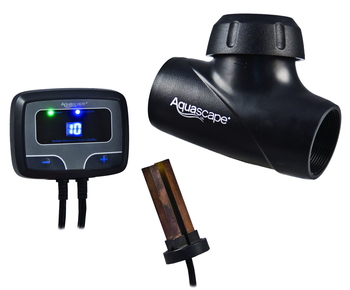 Electronic Clarifier for Ponds and Pondless Waterfall Systems
Eliminate the need for Algaecides!
The Aquascape, IonGen(tm) second generation is an electronicwater clarifier solution for ponds, Pondless Waterfalls, and other decorative water features. The IonGen(tm) drastically reduces pond maintenance and provides crystal clear water without the use of chemicals.
A microprocessor inside the IonGen(tm) control panel causes the outermost atoms of copper, silver and zinc to lose an electron, creating a positive ion. The positive ion attempts to flow from one of the Probe's bars to the other and is swept away by the flow of water where the ion can begin to treat the water.
The IonGen(tm) Probe is self-cleaning, using reverse polarity to prevent scale and debris build-up on the Probe's bars. The metal alloys in the Probe are scientifically blended and tested to produce maximum results. The IonGen(tm) System is safe for fish and plants and is not toxic to any animal that may drink from the pond.
Drastically reduces pond maintenance
Crystal clear water without the use of chemicals
Eliminates unsightly water conditions
Simple to install
Safe for fish and plants
Not toxic to animals that may drink from the pond
Energy efficient (less that $1 a month in electricty cost)
Treats ponds up to 25,000 gallons
How does the IonGen(tm) work?
The Aquascape IonGen(tm) releases a calculated mixture of copper, silver and zinc ions into the path of flowing water. The automatic control panel sends signals that slowly dissolve the replaceable metal probe. This unique combination of metal ions increases water quality, clarity and drastically reduces time consuming maintenance. Drastically reduces algae on rocks and sediment sticking to the pond surface.
How to Install:
Install the Aquascape IonGen(tm) flow chamber directlly into the water feature plumbing or hide the chamber underwater in an area with significant water flow. (Such as skimmer box or flowing stream)
Mount the control panel near electrical box
Test the pond water with the included copper test strip and manually set the ionization level.
Features of the IonGen(tm)
Easy to use touch pad makes it simple to adjust the amount of ionization. Is easily adjusted based on size of pond or water feature.
Electronic indicator automatically notifies you when the probe needs replaceing. The probes typically last 1-3 seasons depending on usage, quality of water and water parameters of the water feature.
Comes complete with electronic control panel, outdoor-rated transformer, 2" PVC flow chamber with replaceable probe, fittings, copper test kit and owner's manual.
Durable quick-connect electrical connections - cable t transformer (12' long) and probe (15' long)
Weatherproof Control Panel
Tool-free probe installation
7. Angled probe helps deflect debris and reduce clogging
2" threaded inlet and outlet
Includes 2" PVC slip fittings and universal barbed hosetail fittings (1", 1.25", 1.5")
See IonGen G2 Probe Holder for placement inside skimmer. Also 25" Lighting & IonGen Cable Extention available for systems needing additional cable length to electrical source.
Replacement Parts for prior models of the IonGen are found in Replacement Parts - Aquascape.
---
People Who Bought This Product Also Ordered: