Skimmers
> Aquascape Signature Skimmer Filters
See other items in this category:
Aquascape Signature Skimmer Filters



click image to view larger

Aquascape Signature Skimmer Filters


Sale!

We are not currently taking online orders. To order please call 724-869-3317. We are Western Pennsylvania's PREMIERE pond and water garden supplier.
---
Description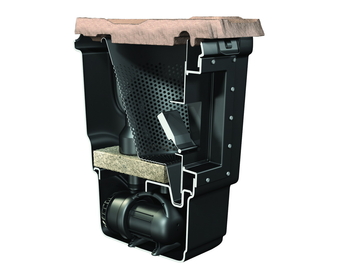 Aquascape's family of field-proven, time tested Skimmer Filters are the #1 selling skimmers in the water garden market. These skimmers have been designed by actual pond builders and are easy-to-install. They include patented features that make installation a snap with components designed to make maintenance effortless. This skimmer is available with two weir sizes. ( 6" and 8" )

Features found on the Aquascape Signature Skimmer Filters

* Natural looking Faux-Rock Lid: Grooves designed into lid provide space for gravel or mulch
* Patented Adjustable Faceplate: Four inches of travel enable you to tweak out the perfect water level
* Easy Maintenance: Large volume, rigid debris basket
* Injection Molded Fitting: Check valve threads into skimmer wall providing a professional watertight seal along the back of the skimmer
* Corrosion-resistant non-cross-threading hardware stands up to the elements
* Filter mat removes smaller sediment and debris
* Rounded shape provides maximum strength

Signature Series 400 Pond Skimmer

Pond Size: ......................... up to 400 sq.ft.
Pump Flow Rate: .............. up to 4,000 GPH / 15,140 LPH
Recommended Pumps: .... AquaSurge, AquaSurge Pro,& PL's
Weir Size: ........................ 6 inches
Adjustable Height Face Plate: Included
Leaf & Debris Rigid Basket: Included
Filter Mat: ........................ Included
Dimensions: ..................... 21.5" L x 18" W x 21" H
Warranty: ......................... Limited Lifetime

Signature Series 1000 Pond Skimmer

Pond Size: ........................up to 1,000 sq.ft.
Pump Flow Rate: ............. up to 10,000 GPH / 37,850 LPH
Recommended Pumps: .... AquaSurge, AquaSurge Pro & PL's
Weir Size: ........................ 8 inches
Adjustable Height Face Plate: Included
Leaf & Debris Rigid Basket: Included
Filter Mat: ....................... Included
Dimensions: .................... 21" L x 22" W x 26.5" H
Warranty: ........................ Limited Lifetime
---
People Who Bought This Product Also Ordered: