See other items in this category:
300-Watt Pond De-Icer



click image to view larger

300-Watt Pond De-Icer


Sale!

We are not currently taking online orders. To order please call 724-869-3317. We are Western Pennsylvania's PREMIERE pond and water garden supplier.
---
Description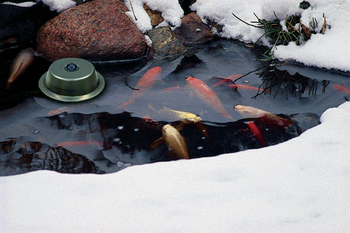 300-Watt Pond De-Icer
Now comes with a 3-year limited warranty

Aquascape stainless steel Pond De-icer is ideal for keeping a small hole opening in the ice during cold winter months, and ensures proper gas exchange helping keep fish alive during the winter. The Aquascape 300-Watt Heater also comes equipped with a built-in LED light that indicates when the heater is actually in use.
Features and Benefits:
Prevents winter fish loss
Keeps a small hole in the ice during winter months
Helps increase pond oxygen levels
Stainless steel construction prevents corrosion and cracking
Low cost to operate
Built-in LED light indicates when heater is in use
22' Power Cord

---
People Who Bought This Product Also Ordered: