See other items in this category:
Hakko Aeration Pumps



click image to view larger

Hakko Aeration Pumps


We are not currently taking online orders. To order please call 724-869-3317. We are Western Pennsylvania's PREMIERE pond and water garden supplier.
---
Description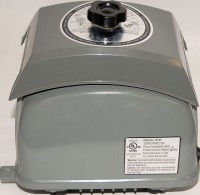 We are proud to offer the quality line of Hakko Air Pumps.
These quality units are widely considered to be the BEST linear pond diaphragm aerator pumps on the market today...and for good reason!
Hakko Air Pumps have a well-earned reputation for whisper quiet operation, reliability, performance, and energy efficiency.
Hakko Air Pumps are built to last with a very durable body and mechanics, ensuring years of quality airflow. Very low noise, low power consumption, silent operation, and completely oil free design. Overload protection with auto off/on switch for overheat situations.
Hakko Air Pumps are trusted and recommended by pond professionals and experienced hobbyists worldwide. UL and CE listed for outdoor use. Self-weight air tubing also available. 24-month limited warranty.

Replacement Diaphragm Sets available.
Output:
HK-25L:0.1/1.42 psi (4.15' depth) Max. Draw @ 115v - 24w
HK-40L:0.13/1.85 psi (4.15' depth) Max. Draw @ 115v - 40w
HK-80L:0.15/2.13 psi (4.80 depth) Max. Draw @ 115v - 55w