See other items in this category:
BioRoot



click image to view larger

BioRoot


We are not currently taking online orders. To order please call 724-869-3317. We are Western Pennsylvania's PREMIERE pond and water garden supplier.
---
Description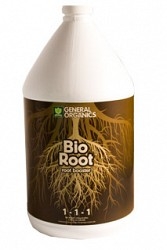 BioRoot is a natural plant growth supplement that helps plants establish healthy and vibrant root systems. It contains plant and mineral-derived organic acides and humates that encourage profuse root development. BioRoot is outstanding for seedlings and cuttings as well as all phases of plant growth. Use BioRoot with all types of plants growing in all kinds of garden soils and potting mixes. Works with all plant foods.
General Organics provides gardeners with a complete line of superior organic plant foods and supplements that combine the time-tested materials of traditional gardening with the ecological and efficient methods of the future. Each product in the "GO" line enables you to enrich your garden, your life, and the planet. General Organics foundation rests upon a deep commitment to provide simple, sustainable and innovative products with unsurpassed quality.
Nitrogen (N) 1
Phosphorus (P) 1
Potassium (K) 1
---
People Who Bought This Product Also Ordered: