See other items in this category:
Medium Pond Kit 11' x 16'



click image to view larger

Medium Pond Kit 11' x 16'


Sale!

Ships Free!

We are not currently taking online orders. To order please call 724-869-3317. We are Western Pennsylvania's PREMIERE pond and water garden supplier.
---
Description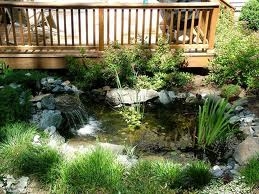 The 11' x 16' Medium Pond Kit is small enough to fit into tight spaces yet big enough to make a design impact in any landscape setting.
Kit Includes:
15' x 20' 45 mil. EPDM fish-safe liner
300 sq. ft. Underlayment
Signature Series BioFalls Filter 2500 w/BioBalls
Signature Series 1000 Pond Skimmer
AquaSurge PRO 2000-4000 OR 3PL- 3000 Pump
Water Treatment Starter Package
2" x 25' Flexible PVC Pipe
Pump Check Valve Assembly and Installation Kit
Automatic Water Treatment Dosing System for ponds
Staple Fish Food Pellets
LED Lighting Package
(2) 3 watt 12v LED Spotlights
(1) 1 watt 12v LED Waterfall Light
(1) 60 watt Transformer w/photocel
(1) 3 way Splitter and 25' LVL Extention Cable
Welcome Kit- printed material, USB manual, video and instructions

This kit offers the choice of two different pumps:
AquaSurge Pro 2000-4000 Pump with multi-function remote or the 3PL - 3000 Pump
To choose the best pump for your application, see specifications for each pump.
at Home page select Pumps, then Waterfall Pumps to find specifications.
Pond Kit ships directly from the manufacturer with free shipping.

---
People Who Bought This Product Also Ordered: