See other items in this category:
DIY Backyard Pond Kits (3 sizes)



click image to view larger

DIY Backyard Pond Kits (3 sizes)


Sale!

We are not currently taking online orders. To order please call 724-869-3317. We are Western Pennsylvania's PREMIERE pond and water garden supplier.
---
Description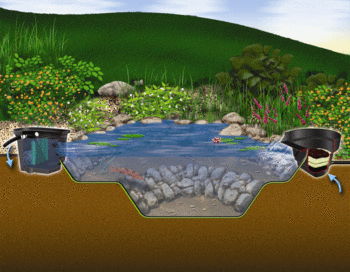 Take the guesswork out of trying to assemble the perfect combination of equipment and liner to create a stunning water garden. The only thing that is missing in this kit is rock, plants and a little imagination.
All DIY Backyard Pond Kits Include:
Signature Series 200 Pond Skimmer- Removes leaves and debris from surface of the pond and provides protection for your pump.
BioFalls 1000 Filter - Provides complete biological filtration.
AquaSurge 2000 waterfall pump
25 feet of 1 1/2" quality kink-free hose
Pond liner made from quality EPDM 45 mil. fish safe liner.
Geotextile underlayment - Protects liner from sharp objects
A;; necessary fittings and silicone sealants.
Staple fish food pellets
Welcome Kit - printed material, USB manual, video and instructions.
Three Pond Kit Sizes Available

4' x 6' Pond Kit (includes 8' x 10' Liner)
6' x 8' Pond Kit (includes 10' x 12' Liner)

8' x 11' Pond Kit (includes 12' x 15' Liner)

---
People Who Bought This Product Also Ordered: