See other items in this category:
Medium Pondless Waterfall w/ Up To 16' Stream



click image to view larger

Medium Pondless Waterfall w/ Up To 16' Stream


Sale!

Ships Free!

We are not currently taking online orders. To order please call 724-869-3317. We are Western Pennsylvania's PREMIERE pond and water garden supplier.
---
Description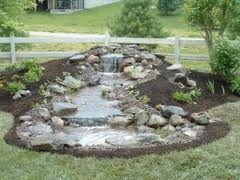 With this Medium Pondless Kit you will have the flexibility to create longer waterfalls and streams. Includes a stream liner long enough to install a 16' stream and waterfall.
Kit Includes:
10' x 12' Liner, 120 sq.ft. Underlayment
10' x 20' Stream Liner
Pondless Waterfall Vault
Waterfall Spillway
(5) Small AquaBlox
AquaSurge PRO 2000 OR 3 PL- 3000 Pump
2" x 25' Flexible PVC Pipe
Pump Check Valve Assembly and Installation Kit
LED Lighting Package
(2) 1-watt 12V LED Waterfall Lights
(1) 60 Watt Transformer w/photocell
(1) 3-Way Splitter and 25' LVL Extension Cable
NEW - Automatic Water Treatment Dosing System
welcome Kit - printed material, USB Manual, video and instructions

Two Pump Model Choices
: To order the correct pump to match your waterfall/stream design, check the pump specifications for each pump before choosing kit. See specifications for pumps under
Pumps, Waterfall Pumps.
---
People Who Bought This Product Also Ordered: