See other items in this category:
Large Pondless Waterfall Kit with 26' Stream



click image to view larger

Large Pondless Waterfall Kit with 26' Stream


Sale!

Ships Free!

We are not currently taking online orders. To order please call 724-869-3317. We are Western Pennsylvania's PREMIERE pond and water garden supplier.
---
Description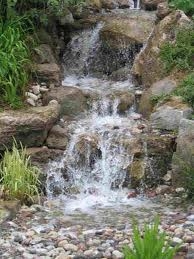 The largest pre-packaged Pondless Waterfall Kit uses the Pondless Vault with the Vault Extension allowing you to store more water and create longer stream and waterfall runs.
Kit Includes:
12' x 15' Liner, 180 sq. ft. Underlayment
10' x 30' Stream Liner
Pondless Waterfall Vault
Pondless Waterfall Vault Extension
Waterfall Spillway
(5) Large AquaBlox
AquaSurge PRO 4000 -8000 OR 5PL-5000 Pump

2" x 50' Flexible PVC Pipe
Pump Check Valve Assembly and Installation Kit
LED Lighting Package
(3) 1-Watt 12V LED Waterfall Lights
(1) 60 Watt Transformer w/photocell
(1) 3-Way Splitter and 25' LVL Extention Cable
NEW - Automatic Water Treatment Dosing System

Welcome Kit - printed material, USB manual, video and instructions

Note: When choosing the correct pump to work with your design, please check the pump specifications found in website under Pumps, Waterfall Pumps.

---
People Who Bought This Product Also Ordered: