See other items in this category:
Two Grow Tub System with Medium Fish Tub



click image to view larger

Two Grow Tub System with Medium Fish Tub


We are not currently taking online orders. To order please call 724-869-3317. We are Western Pennsylvania's PREMIERE pond and water garden supplier.
---
Description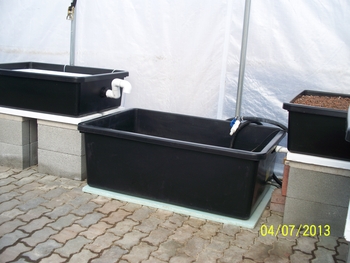 This two tub Aquaponics system is perfect for the beginner or small family. It comes complete with two grow beds and fish tank large enough to support the addition of two additional grow beds if needed.
System Includes:
(1) Medium Fish Tub - 126 gallons. 51" x 32" x 18"
(2) Plant Grow Bins - each is 60 gallons 42" x 28.5" x 12"
(1) Small Aquaponics Filter
(1) 600 GPH Water Pump
(1) Bell Siphon
(1) Complete Fittings Kit
(1) Drilled Polystyrene Plant Raft
(1) Cycling Startup Package
(1) Ultimate Water Conditioner
(1) Ammonia, pH, Nitrite , Nitrate Test Kits
(1) Thermometer
(24) 2" Net Cups
(1) Fish Net Covering w/clips
(10 Mesh Net Basket w/oyster shell
(1) Operations Manual

Optional Equipment:
Plant!t Fired Clay Media
T5 Plant Grow Light
Additional Plant Bins
Due to system configuration,we are unable to furnish the 2" PVC pipe, 30 gallon Mineralization Tank (Brute trash can) and the stand for plants and filter. Fittings for Mineralization tank are included in the Fittings Kit.
Due to size, shipping quote for truck shipping required.

---
People Who Bought This Product Also Ordered: